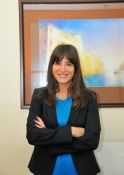 Profile
http://www.gmcclinics.com/our_doctors_details.php?doctorID=3

Psychology
Carine El Khazen Hadati
Clinical Psychologist, Psychotherapist MA, DESS, DEA
Fluent in English, Arabic & French


Carine el Khazen Hadati is a clinical psychologist/psychotherapist trained to help individuals overcome many of life's stresses and strains.
She brings with her a wealth of experience and learning to her chosen speciality including eight years of clinical experience in a variety of reputable general health care and psychiatric facilities in the UK, Paris & Lebanon.  She has a Masters Degree in Clinical & Psychopathological Psychology (University of Saint Joseph, Lebanon), a post-graduate degree (DESS) in Clinical & Psychopathological Psychology (University of Sorbonne, Paris V), and a diploma in Profound Studies (DEA) in Clinical Psychopathology (University of Jussieu, Paris VI).  She is an international affiliate to the Amercan Psychological Association –APA-, a member of the French Psychology Society (Societé  Française de Psychologie –SFP-) and the Lebanese Psychological Association –LPA-. In addition to that, being an Eating-Disorder specialist, Carine is the UAE representative of MEEDA (the Middle East Eating Disorder Association).
After 8 years at the GMC clinics in Dubai, Carine recently joined the American Center for Psychiatry and Neurology (Dubai branch) where she has set up one of the only units in the Middle East for the treatment of Eating Disorders.
Where she can help…
She specialises in addictive behaviours: eating disorders, alcohol abuse, shopping addictions,….
Her training in psychodynamic psychotherapy, an intensive process of self-realisation, allows individuals to understand the underlying causes of their problems and therefore to develop more adapted coping- mechanisms.
Carine is also trained in ACT (Acceptance and Commitment Therapy), one of the third wave  mindfulness-based behaviour therapies. A therapy firmly based in the tradition of empirical science, yet has a major emphasis on values, forgiveness, acceptance, compassion, living in the present moment and accessing a transcendent sense of sense.
Furthermore, Carine is an EMDR practitioner: the Eye Movement Desensitization and Reprocessing is a leading edge methodology in psychotherapy that has proven to be very effective in the treatment of traumas.
In Addition to her psychodynamic training for couple counselling, Carine also practices the Couple Power Therapy, an exciting new approach that focuses on the positives of the couple while partners cocreate a unified vision for their relationship.
Some of the services she is able to provide include:
Þ      Psychodynamic psychotherapy for children, adolescents and adults
Þ      ACT psychotherapy
Þ      Clinical assessments
Þ      EMDR psychotherapy
Þ      Couple counselling
Þ      Parent/child counselling
Þ      Family counselling
Þ      Greif counselling
Þ      Case management for severe mental health disorders