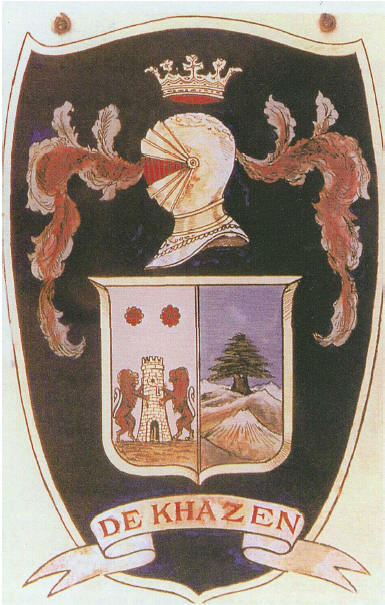 A letter from Patriarch Mar Nasrallah Boutros Sfeir to the family of Cheikh Serhal el Khazen.

Maronite Patriarchate of Antioch and all the East
Bkerke
This Apostolic blessing is addressed to the beloved ones hereby mentioned: Cheikha Nomiss, sister of deceased Cheikh Serhal Toufic el Khazen and her daughter, her cousins, her uncle's widow and other relatives in Lebanon and abroad.
We were saddened, during our stay in Rome, by the news of the unexpected loss of your highly esteemed and beloved brother and Uncle Cheikh Serhal, who has answered God's call and joined him in the heavens. Cheikh Serhal was known for leading a virtuous and ethical life, for his generosity and sacrifices. He was highly esteemed by many and his presence was felt at the highest levels in the Church and the country as a whole. Added to that, The high ethics and good habits that are collected in his personality were not strange to the prestigious Khazen family. His aspiration to seeking knowledge and wisdom were highly influenced by the fact that he was raised by his grandfather Cheikh Iskandar el Khazen.
Cheikh Serhal attended one of the most prestigious Christian schools in the region, and acquired a prosperous knowledge after spending days and weeks going through research papers and archives. He also established solid relationships with a considerable number of foreign ambassadors, most notably the French Ambassador and the papal ambassador, whom he used to meet frequently to discuss several matters and strengthen the historical relationship between the Khazen family and the Vatican.
Cheikh Serhal owned a very rich library filled with manuscripts, documents and important letters exchanged between the French, the Khazens and the Dahdas. One of them is an old manuscript written by a relative of his at the start of the 20th century and addressed to the United Nations tackling human rights and the sovereignty of Lebanon and its independence. Cheikh Serhal never missed a chance to enrich his knowledge and was devoted to science and the good of his nation. One of his most generous actions was donating his rich library to the great Fouad Frem el Boustany asking him to spread the knowledge that is embedded in this library to the next Lebanese generations.
One of the topics that Cheikh Serhal was most passionate about was Lebanon's history and the relationship between Lebanon and other countries in the Middle East, mainly those related to Christianity. He was always welcome at Bkerke and we looked forward to his views and opinions on the Church and the country in general. One of the topics that saddened him was the situation Christians have come to in Lebanon and the Middle East in general.
Even though he failed to marry and form a family given his many interests and busy life, Cheikh Serhal was devoted to his sister's family and helped them in every way possible. His faith was unshakable and his generosity unmatched as he used to donate constantly to the church and offer help in its activities in every way possible, all without asking for anything in return.
Having said that, and in order to honor his memory, we hereby send you our esteemed Bishop Samir Mazloum to lead the funeral services and pray on his soul. With that, we send you our deepest condolences.
Rome 2005
Cardinal Nasrallah Boutros Sfeir
Patriarch of Antioch