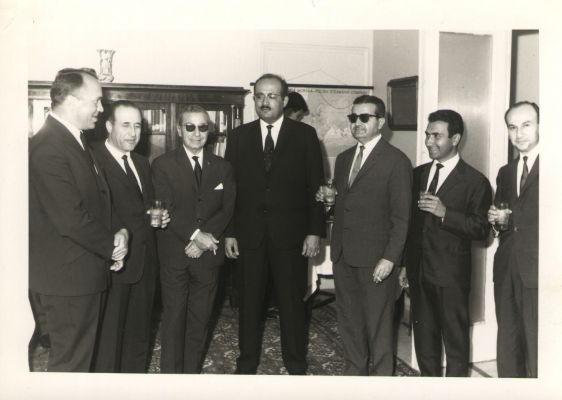 Sheikh Rafiq el Khazen, second from the left
Cheikh Rafiq el Khazen
Son of Barbar Beik el Khazen known as أمير آلايالجند اللبناني and Therese Ghandour Beik Al Saad sister of Habib Basha al Saad, Rafiq el Khazen was born in 1909 in Baabda. He went to school in Antoura and since his early youth, leaned towards agriculture and labor. As soon as he finished school, he started culturing his lands in the Zawiya district (Khazen Hill). Quickly, his business prospered as he started growing olives and oranges which he expanded late on to cover large areas of his lands.
Afterwards, he started producing luxury oil and soap, some of the best in the market. His knowledge soon became a reference for all to follow in that sector. In 1945, he married Miss Widad daughter of Cheikh Gebrail Germanos, an important figure in the region of Mnaytra. In fact, Cheikh Germanos was elected governor and representative in San Domingo and the United States. When he came back to Lebanon, he had accumulated a fortune and became the biggest land owner in Mount Lebanon.
Cheikh Rafiq and his wife had 7 children:
- Najwa
- Cheikh Barbar (died as a baby)
- Nada (Died at 23)
- Cheikh Antoine (Had 3 kids : Rafiq, Carine, Charif)
- Siham (Widow of Malek Malek, son named Marwan)
- Maya (wife of Pierre Debbas,2 sons George and Makram)
- Cheikh Nabil
As soon as they married, the couple worked on developing their fields in the mountain and Cheikh Rafiq soon introduced apples, pears and cheers to become the biggest apple farmer in Mount Lebanon as well as the first expert in apple agriculture and plant diseases. With his reputation spreading fast, he was appointed as a board member of the Lebanese Fruits committee. It didn't take much time before he enhanced the office and upgraded its rules and guidelines and soon got promoted to head the office.
During his reign, agriculture was at its peak in Lebanon as local products were distributed all over Arab countries as well as other countries. He also represented Lebanon in many exhibitions around the world, thereby encouraging Lebanese produce and raising the Lebanese name very high across the continent. Later on, he initiated a business that guaranteed cooling apples and other fruits at low and competitive prices and also worked on fruit packaging for export purposes. He followed precise and up to date procedure which gave its products a high quality at reasonable prices. His buyers were always satisfied.
Cheikh Rafiq was known for his strength, courage and creativeness and was a good politician and advisor. When he reached the age of retirement in 1973, he left the office and focused on agricultural products and trades. His efforts were materialized with the creation of a big center still standing until today, La Cite in Jounieh. It became the biggest center ever in Lebanon and included theaters, offices, antiques and other stores.
It is worth noting that Cheikh Rafiq did not drop his efforts during war time but on the contrary brought artistic shows such as Caracalla, Antoine Kerbej plays to Jounieh as well as many exhibitions and trade shows all under the patronage of late Cheikh Bashir Gemayel, elected president of the Lebanese Republic in 1982.
Cheikh Rafiq represented the Khazen family as the gate keeper for the sacred Maronite council that voted Mar Antonios Boutros Khreich as Patriarch.
He died on the 27th of June 1997 and was buried in a ceremony attended by the Maronite Patriarch himself.