By David Cohen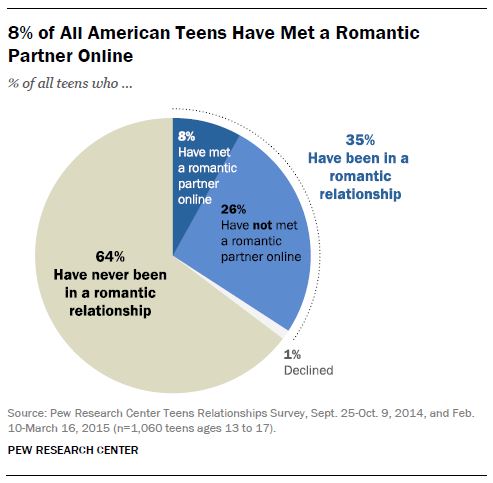 Romance among teenagers has become a lot more complicated than sending your friend over to ask your crush's friend if they like you.
Pew Research Center surveyed more than 1,000 teens (aged 13 through 17) to determine the impact of technology on their dating and romantic life, and its findings included:
35 percent are dating or have dated someone, with fewer than one-quarter (8 percent) having met a significant other online.
59 percent of those with relationship experience (31 percent of the overall population) say social media makes them feel more connected to what is happening in their significant other's life—65 percent of boys and 52 percent of girls.
47 percent say social media allows them to show how much they care for their significant others.
44 percent say social media helps them feel emotionally closer to their significant others—50 percent of boys, 37 percent of girls.
However, 27 percent say social media makes them feel jealous or unsure about their relationship.
55 percent of all teens have flirted or spoken with someone in person to let them know they were interested.
50 percent have done so by friending them on Facebook or other social media sites.
47 percent have expressed attraction by liking, commenting or interacting with their crush on social media.
46 percent have shared something funny or interesting online with their romantic interests.
37 percent of teens with relationship experience have used social media to let their partners know how much they like them in a way that was visible to other people.
92 percent of teens with romantic relationship experience have spent time text messaging with their partners, followed by: talking on the phone (87 percent), being together in person outside of school hours (86 percent), social media (70 percent), instant or online messaging (69 percent), video chat (55 percent), messaging applications (49 percent), email (37 percent) and talking while playing video games (31 percent).
85 percent of teens who have been in romantic relationships expect to hear from their significant others at least once per day, and 11 percent expect to hear from them hourly.
88 percent of teens who have been in romantic relationships said their current or former partners expected to hear from them at least once per day, while 15 percent said hourly.
25 percent of all teens have unfriended or blocked someone on social media because their flirting was making them feel uncomfortable—35 percent of girls, and 16 percent of boys.
11 percent of teen daters have accessed a current or former partner's mobile or online accounts.
10 percent have modified their partner's or ex-partner's social media profile.
10 percent have impersonated a boyfriend, girlfriend or ex in a message.
8 percent have sent embarrassing pictures of a current or former partner to someone else.
4 percent have downloaded GPS or tracking programs to their partners' devices without their knowledge.
31 percent of teens with dating experience said current or former partners have checked up on them multiple times per day via the Internet or cell phone.
22 percent say partners have used the Internet or cell phones to call them names, put them down or say mean things to them.
21 percent have had their text messages read without permission.
16 percent have been required by current or former partners to remove exes from their friends lists on Facebook, Twitter or other social networks.
15 percent say current or former partners used the Internet or text messaging to pressure them into engaging in sexual activity that they did not want to have.
13 percent say current or former partners demanded that they share their passwords for email and Internet accounts.
11 percent have been threatened by current or former partners via the Internet or cell phones.
Pew Research Center associate director for research Amanda Lenhart, lead author of the report, said in a release announcing its findings:
Digital platforms are powerful tools for teens for flirting, wooing, connecting with and even showing off a romantic partner, but even as teens enjoy greater closeness with partners and a chance to display their relationships for others to see, mobile and social media can also be tools for jealousy, meddling and even troubling behavior.
Readers: Did any of Pew's findings surprise you?