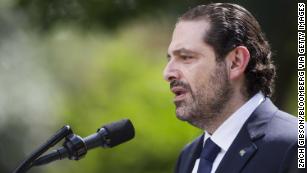 This article represents opinion of the author
Samia Nakhoul, Laila Bassam, Tom Perry - Reuters - BEIRUT (Reuters) - From the moment Saad al-Hariri's plane touched down in Saudi Arabia on Friday Nov. 3, he was in for a surprise. There was no line-up of Saudi princes or ministry officials, as would typically greet a prime minister on an official visit to King Salman, senior sources close to Hariri and top Lebanese political and security officials said. His phone was confiscated, and the next day he was forced to resign as prime minister in a statement broadcast by a Saudi-owned TV channel. The move thrust Lebanon back to the forefront of a struggle that is reshaping the Middle East, between the conservative Sunni monarchy of Saudi Arabia and Shi'ite revolutionary Iran. Their rivalry has fueled conflicts in Iraq, Syria and Yemen, where they back opposing sides, and now risks destabilizing Lebanon, where Saudi has long tried to weaken the Iran-backed Hezbollah group, Lebanon's main political power and part of the ruling coalition. Sources close to Hariri say Saudi Arabia has concluded that the prime minister - a long-time Saudi ally and son of late prime minister Rafik al-Hariri, who was assassinated in 2005 - had to go because he was unwilling to confront Hezbollah. Multiple Lebanese sources say Riyadh hopes to replace Saad Hariri with his older brother Bahaa as Lebanon's top Sunni politician. Bahaa is believed to be in Saudi Arabia and members of the Hariri family have been asked to travel there to pledge allegiance to him, but have refused, the sources say. "When Hariri's plane landed in Riyadh, he got the message immediately that something was wrong," a Hariri source told Reuters. "There was no one was waiting for him." Saudi Arabia has dismissed suggestions it forced Hariri to resign and says he is a free man. Saudi officials could not immediately be reached for comment on the circumstances of his arrival, whether his phone had been taken, or whether the Kingdom was planning to replace him with his brother. Hariri has given no public remarks since he resigned and no indication of when he might return to Lebanon.
"NO RESPECT"
Hariri was summoned to the Kingdom to meet Saudi King Salman in a phone call on Thursday night, Nov. 2. Before departing, he told his officials they would resume their discussions on Monday. He told his media team he would see them at the weekend in the Red Sea resort of Sharm al-Sheikh, where he was due to meet Egyptian President Abdel Fattah al-Sisi on the sidelines of the World Youth Forum. Hariri went to his Riyadh home. His family made their fortune in Saudi Arabia and have long had properties there. The source close to Hariri said the Lebanese leader received a call from a Saudi protocol official on Saturday morning, who asked him to attend a meeting with Crown Prince Mohammed bin Salman. He waited for about four hours before being presented with his resignation speech to read on television, the source said. "From the moment he arrived they (Saudis) showed no respect for the man," another senior Lebanese political source said. Hariri frequently visits Saudi Arabia. On a trip a few days earlier, Prince Mohammed bin Salman had arranged for him to see senior intelligence officials and Gulf Affairs Minister Thamer al-Sabhan, the Saudi point man on Lebanon. Hariri came back from that trip to Beirut "pleased and relaxed", sources in his entourage said. He posted a selfie with Sabhan, both of them smiling. He told aides he had heard "encouraging statements" from the crown prince, including a promise to revive a Saudi aid package for the Lebanese army.
The Hariri sources say Hariri believed he had convinced Saudi officials of the need to maintain an entente with Hezbollah for the sake of Lebanon's stability. Hezbollah has a heavily armed fighting force, in addition to seats in parliament and government. Saudi-backed efforts to weaken the group in Lebanon a decade ago led to Sunni-Shi'ite clashes and a Hezbollah takeover of Beirut. "What happened in those meetings, I believe, is that (Hariri) revealed his position on how to deal with Hezbollah in Lebanon: that confrontation would destabilize the country. I think they didn't like what they heard," said one of the sources, who was briefed on the meetings. The source said Hariri told Sabhan not to "hold us responsible for something that is beyond my control or that of Lebanon." But Hariri underestimated the Saudi position on Hezbollah, the source said. "For the Saudis it is an existential battle. It's black and white. We in Lebanon are used to gray," the source said. Sabhan could not immediately be reached for comment.
RESIGNATION
Hariri's resignation speech shocked his team. Lebanese President Michel Aoun told ambassadors to Lebanon that Saudi Arabia had kidnapped Hariri, a senior Lebanese official said. On Friday, France said it wanted Hariri to have "all his freedom of movement". In his speech, Hariri said he feared assassination and accused Iran and Hezbollah of sowing strife in the region. He said the Arab world would "cut off the hands that wickedly extend to it," language which one source close to him said was not typical of the Lebanese leader. Hariri's resignation came as more than 200 people, including 11 Saudi princes, current and former ministers and tycoons, were arrested in an anti-corruption purge in Saudi Arabia.
Initially there was speculation Hariri was a target of that campaign because of his family's business interests. But sources close to the Lebanese leader said his forced resignation was motivated by Saudi efforts to counter Iran. Hariri was taken to meet the Saudi king after his resignation. Footage was aired on Saudi TV. He was then flown to Abu Dhabi to meet Crown Prince Mohammed bin Zayed, the Saudi crown prince's main regional ally. He returned to Riyadh and has since received Western ambassadors. Sources close to Hariri said the Saudis, while keeping Hariri under house arrest, were trying to orchestrate a change of leadership in Hariri's Future Movement by installing his elder brother Bahaa, who was overlooked for the top job when their father was killed. The two have been at odds for years. In a statement, the Future Movement said it stood fully behind Hariri as its leader. Hariri aide and Interior Minister Nohad Machnouk dismissed the idea Bahaa was being positioned to replace his brother: "We are not herds of sheep or a plot of land whose ownership can be moved from one person to another. In Lebanon things happen though elections not pledges of allegiances." Family members, aides and politicians who have contacted Hariri in Riyadh say he is apprehensive and reluctant to say anything beyond "I am fine". Asked if he is coming back, they say his normal answer is: "Inshallah" (God willing). Writing by Tom Perry; Editing by Nick Tattersall
Tense and tearful: Lebanese PM's 80-minute interview backfires
Hariri chose Lebanon's Future TV, a channel he owns, for his first public remarks since he announced he would quit his post eight days before. Paula Yacoubian, one of his highest-profile TV hosts, flew to Riyadh to conduct the interview. Sunday's exchange ranged from the tense to the emotional to the downright bizarre, and has already become one of the most commented-on television spectacles in the history of Lebanese social media. "Today, Mr. Prime Minister, I am unable to convince anybody that you aren't a prisoner in the Kingdom of Saudi Arabia, that you're not a hostage, that you're not under house arrest even though we are in your own house," said the characteristically fiery Yacoubian as she faced Hariri -- her boss. "Even I myself am being accused of being part of this theater," she added, speaking over the Prime Minister as she said it. It was an 80-minute interview that revealed a pale and somber Hariri who, despite having relinquished his national duties, appeared exhausted. "I think people who believed (Hariri) was a prisoner will not be reassured that things are fine with Hariri. He seemed to be tense. He seemed to be emotional. He cried so easily," Habib Battah, a media studies instructor at the American University of Beirut and founder of independent outlet BeirutReport.com, told CNN of the interview. "(Hariri) looked exhausted. If you think about it, he's supposedly not running a country. He's supposedly taking a break and sitting at home. Why is he so tired? Why is he so nervous? Why is he so unhappy?" blogger and long-time Lebanese media expert Claude el Khal told CNN. Since his resignation, Hariri has held several meetings with senior European and Arab officials including Abu Dhabi's Crown Prince, but there have been no public statements about them.
'You're making me very tired'
Analysts point to several moments in which Hariri seemed to confirm suspicions about his circumstances. Fifteen minutes in, he appeared to choke back tears, leading Yaacoubian to call for an early commercial break. He ended the interview by saying "You're making me very tired." One of the most widely commented on parts of the interview was Hariri's frequent sipping of water. Yaacoubian made this more pronounced by offering her own glass of water to the prime minister after his had run out. "You could see in her eyes that she felt sorry for him. It was as if she had gotten in touch with a maternal instinct," said el Khal, who noted that Yaacoubian ratcheted down her combative tone as Hariri began to get emotional. "Yesterday was a terrible moment for Lebanon no matter what you thought about Hariri," el Khal added. Lebanese social media were also awash with speculation about a person who partially appeared in the frame towards the end of the interview. He was carrying a note and Hariri appeared to be glaring at him. Some suggested that the unknown man could possibly be a captor, though analysts say he was most likely a member of Hariri's team breaking TV protoco . "It's amazing that that moment has taken on this importance. It shows you how people are easily speculating around this moment. It just shows you that we know so little and it's such a farcical situation," said Battah. "If the interview was meant to propagate a message that Hariri was in a strong position, that he was in a confident position, then it didn't really do that at all."
Fears for Lebanese economy if Saudis impose Qatar-style blockade
"BALL IN HEZBOLLAH'S COURT"
Lebanese analyst Sarkis Naoum said Riyadh wanted Hariri to return to Lebanon and press President Michel Aoun to open dialogue and address their conditions on Hezbollah's regional interventions. "They need to come up with a position that will be satisfactory to the Saudis ... If the Saudis decide on sanctions they will do it," Naoum said. A source close to Hariri said he had "put the ball in the court of Aoun, Hezbollah and its allies, by saying 'business cannot continue as usual.' "There was no sugar-coating. The sanctions were spelled out clearly. They want Lebanon to be disassociated from Hezbollah". Aoun has welcomed comments that the former premier planned to return home soon, palace sources said on Monday. Saudi frustration with Lebanon seems to have boiled over after a string of setbacks to its foreign policy. Riyadh has been bogged down in the war it launched against Iran-allied Houthi rebels in Yemen in 2015. Saudi Arabia has accused Iran and Hezbollah of backing the Houthis, and also said Hezbollah had a role in firing a ballistic missile from Yemen towards Riyadh earlier this month. Hezbollah and Iran's involvement in Syria has also transformed the war in favor of President Bashar al-Assad, while Saudi support for Sunni rebels in Syria's civil war have amounted to little. Hezbollah, a movement with a heavily armed fighting force in addition to seats in parliament and government, is Iran's spearhead in the region. Tehran's Revolutionary Guard looks to be trying to replicate it by building coalitions of militia groups in Iraq and Syria, according to some analysts. The list of potential sanctions against Lebanon, political sources there say, could include a ban on flights, visas, exports and transfer of remittances. Some of those have been imposed on Qatar, but that blockade, initiated in June, has had limited effect on the emirate so far, beyond driving it closer to Iran.
NEW SAUDI POLICY
Allegiance to foreign backers is not new to Lebanon. Sunnis have always looked to Saudi Arabia for support and funding while Shi'ite Lebanese tended to turn to Tehran and Hezbollah. "The Lebanese have always been agents of foreign powers. They take their money, make promises, commitments and alliances," Naoum said. But while Hezbollah fulfilled its promises to Iran, Sunni factions let Riyadh down, he said. Thanks in part to Iranian investment in the group, Hezbollah now calls the shots in the Lebanese capital as well as playing a pivotal role in Syria and elsewhere in the Middle East. Riyadh has historically channeled billions of dollars to Lebanon to help its reconstruction after the 1975-90 civil war and following massive Israeli incursions of south Lebanon. Now it appears ready to do serious economic damage to Lebanon that could weaken Hezbollah's standing at home and in the region, should its demands not be met. The Saudi conditions are causing alarm among some Lebanese, who have long viewed Hezbollah as a "state-within-a-state". Many believe the solution is outside the control of local players. "Lebanon will pay the price," a top Lebanese banker told Reuters. "The only pressure the Saudis have is economic ... they can put pressure by imposing sanctions that can hurt." Additional reporting by Ellen Francis and Laila Bassam; Editing by Mike Collett-White
Lebanese patriarch makes historic Saudi visit amid Hariri crisis
RIYADH (Reuters) - Lebanon's Christian Maronite Patriarch began a historic visit to Saudi Arabia on Monday under heightened scrutiny amid political tensions that have thrust his country back to the forefront of the conflict between the Sunni kingdom and Shi'ite rival Iran. Patriarch Beshara al-Rai heads the Maronite church, which has a presence in Lebanon, Syria and Cyprus and follows an Eastern rite of the Roman Catholic church. Maronites number about 900,000 in Lebanon, around a quarter of the population.An official visit to Saudi Arabia by such a senior non-Muslim cleric is a rare act of religious openness for the kingdom, which hosts the holiest sites in Islam and bans the practice of other religions but says it wants to open up more to the world. It is also the first trip to Riyadh by a senior Lebanese official since the start of a crisis sparked by Saad al-Hariri's resignation as Lebanese prime minister on Nov. 4 from the Saudi capital. Top Lebanese government officials and senior sources close to Hariri say Saudi Arabia coerced him into resigning and has put him under effective house arrest since he flew there more than a week ago. During his visit, Rai plans to meet Hariri as well as King Salman and his son and heir-apparent, Crown Prince Mohammed bin Salman, both of whom he praised in an address to Lebanese living in Riyadh. "Certainly his resignation surprised the Lebanese and saddened them and created a type of deadlock," he later told reporters between selfies with followers. "We hope that with this visit we can speak about this topic." But Rai said his visit, which was planned before the latest crisis, was not political but aimed at boosting religious tolerance and co-existence in a region torn by sectarian conflict. Hariri said in a television interview on Sunday that he was a free man and would return to Lebanon within days to affirm that he had resigned. He said Lebanon was at risk of Gulf Arab sanctions because of the Shi'ite group Hezbollah's regional meddling. Asked when he expected Hariri to return to Lebanon, Rai said: "I wish tonight ... we hope as soon as possible." Hariri's resignation and its aftermath have destabilized his country, where Sunni, Shi'ite, Christian and Druze factions fought a civil war from 1975-1990, often backed by rival powers around the region. The only other visit to Saudi Arabia by a Christian patriarch took place in 1975, according to the Saudi information ministry. Rai thanked King Salman for the invitation and said he had never dreamed of visiting the kingdom, which bans all non-Muslim houses of prayer, forcing Christians there to risk arrest by praying in private homes. Reporting By Stephen Kalin; Editing by Toby Chopra and Kevin Liffey