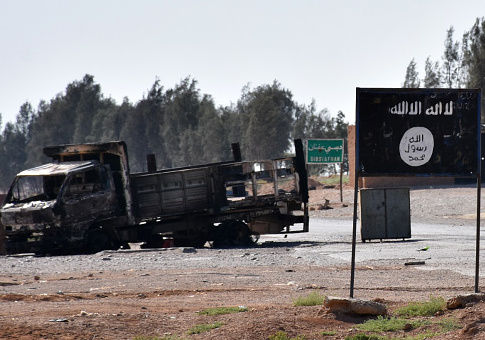 BY: Natalie Johnson - As Iraqi troops closed in on Mosul over the past few months, the Islamic State seized civilian homes and trapped families inside while they staged attacks from the rooftops against U.S.-led coalition forces to lure American airstrikes. The intent was political: to sew division among the local population and turn civilians against the American-backed Iraqi security forces. David Eubank, an American aid worker in Mosul who founded the humanitarian group Free Burma Rangers, said he and his team witnessed ISIS militants using civilians as human shields in this manner on several occasions. "You could hear [civilians] running out of the houses crying, 'We were trapped here for a week and ISIS would shoot from our rooftop to get the Americans to do an airstrike to blame the Americans,'" Eubank said Friday during an event in Washington, D.C. Lt. Gen.
Stephen Townsend, the top U.S. commander in Iraq, offered a similar account in March after an alleged U.S. airstrikes in west Mosul killed up to 200 civilians. Townsend told reporters it appeared ISIS had forced hundreds of civilians into buildings in an attempt to protect their fighting position while luring American airstrikes. Eubank moved his wife and three children—ages 16, 14, and 11—to Mosul in November, one month after the U.S.-led operation to retake the city began.
The family returned to the United States on June 11. During those seven months, he said he witnessed a "measurable escalation" in ISIS's use of human shields as Iraqi troops pushed further into the city. When he first arrived in Mosul on Nov. 15, he said his brigade typically witnessed or heard stories of militants killing about one family a week. By May, when Iraqi troops had driven ISIS from all but a few pockets in the Old City neighborhood, he said the killings became more frequent as thousands of civilians attempted to flee war-torn towns. He often witnessed ISIS fighters forcing civilians to stand alongside them on rooftops or in front of houses while they opened fire on Iraqi security forces to deter U.S. airstrikes. On some occasions, he saw militants holding children at gunpoint while firing mortars at coalition troops to avoid American counterattacks. As the battle for Mosul appears just days away from the end, Iraqi commanders say female ISIS fighters are now using their own children as shields in a last ditch attempt to save the group's last sliver of the Old City. ISIS captured Mosul from the Iraqi government in June 2014, marking the group's most significant territorial grab. The fall of Mosul would all but signal the collapse of its so-called caliphate.