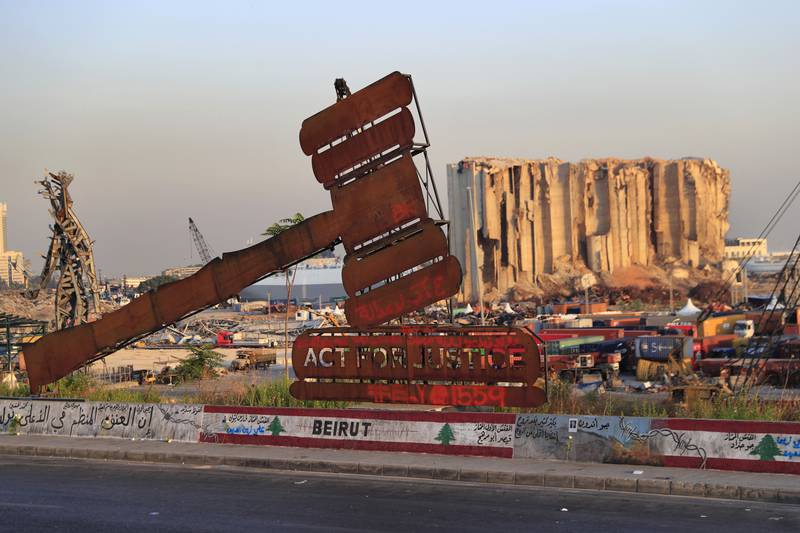 By Anna Foster & David Gritten BBC News, Beirut & London -- Lebanon's top prosecutor has charged the judge leading the inquiry into the 2020 Beirut port blast and ordered the release of suspects in custody. Ghassan Oweidat summoned Judge Tarek Bitar for questioning, accusing him of "acting without a mandate". But the judge insisted that Mr Oweidat had no authority to charge him.
On Monday, he unexpectedly restarted the probe after a 13-month suspension and filed unspecified charges against eight officials, including Mr Oweidat. No-one has yet been held accountable for the blast on 4 August 2020, which killed at least 218 people and injured more than 6,000 others. A fire triggered the detonation of 2,750 tonnes of ammonium nitrate that had been stored unsafely in a port warehouse for almost six years, causing a massive explosion that devastated a large part of the Lebanese capital. It is widely believed that officials and politicians were aware of the combustible chemical's existence and the danger it posed but that they failed to secure, remove or destroy it. Victims' relatives and activists say the investigation into the disaster is being hampered by the Lebanese political leadership's efforts to shield those responsible from scrutiny.
The power struggle at the highest levels of the Lebanese judiciary burst into the open on Wednesday when the public prosecutor dramatically announced that all of the 17 suspects being held in pre-trial detention could go free. Mr Oweidat also accused Judge Bitar of acting beyond his jurisdiction and imposed a travel ban on him. He told AFP news agency that the judge was "rebelling against the judiciary and usurping power", and that he had filed charges in order to "prevent sedition". But Judge Bitar vowed to continue his investigation "until the indictment is issued", Lebanon's state-run National News Agency cited him as saying. He declared that Mr Oweidat's decisions were "illegitimate and should not be implemented", noting that the prosecutor was "a defendant, and as such he cannot take any decision in this case". Mr Oweidat had previously recused himself from matters concerning the investigation after his brother-in-law, former public works minister Ghazi Zaiter, was charged.
Victims' families protested in Beirut following the public prosecutor's announcement Two days ago, Judge Bitar unexpectedly said he was able to restart his inquiry, after numerous legal challenges had stalled it. He also filed charges against Mr Oweidat and other senior figures. Local media cited judicial sources as saying they included the heads of the General Security and State Security departments, although there was no official confirmation. Mr Oweidat has denied any wrongdoing, as have all those previously linked to the investigation.
Judge Bitar also ordered the release of five suspects arrested after the explosion, including port officials and maintenance workers. On Tuesday, Mr Oweidat responded by sending a letter to the judge telling him that the investigation remained suspended. The inquiry has been dogged with problems since it was set up. The first lead judge, Fadi Sawan, was removed from the case by a court in 2021 in response to legal complaints about his impartiality from Ghazi Zaiter and another former minister he had charged.
Several of the powerful politicians charged by his successor, Judge Bitar, have brought similar complaints against him. It has meant that the investigation has been halted each time while a court rules on their veracity, to the frustration of victims' groups. Attempts have been made by some groups to remove Judge Bitar from running the investigation entirely, but despite the Higher Judicial Council approving the appointment of yet another new judge to take charge instead, that has not happened.
Paul Naggear, whose three-year-old daughter was killed in the explosion, condemned Mr Oweidat's decision to release all the detainees and warned that it showed Lebanon had become "a total failed state". Human Rights Watch and Amnesty International called on the UN Human Rights Council to establish an impartial international fact-finding mission to investigate the blast. "It is patently clear that the Lebanese authorities are determined to obstruct justice. Since the explosion, they have repeatedly blocked the domestic investigation, shielding themselves from accountability at the expense of the victims' rights to truth, justice, and redress," said Aya Majzoub, Amnesty's deputy Middle East director, in a statement.