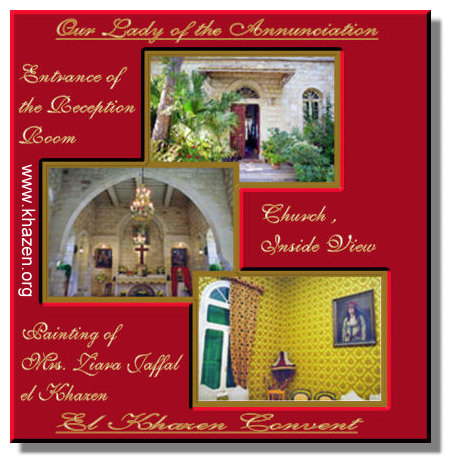 Ziara el Khazen, wife of Cheikh Bishara Jaffal el Khazen
Ziara is the wife of Cheikh Bishara Jaffa el Khazen, daughter of Sarda, son of Sherwan, son of Moussa, son of Tarabieh, son of Abi Nawfal Nader, son of Abi Saqer Ibrahim, son of Chidiac Sarkis el Khazen. She was gifted with a rare beauty, was a sole daughter of wealthy parents and lived an extravagant life. She got married to Cheikh Bishara who was also extremely wealthy and living a prestigious and luxurious life.
Despite all that, Ziara faced a lot of challenges that turned her life upside down. Firstly, her two children, Jaffal and Clementine, died tragically, followed by her husband when she was still middle-aged. That left her devastasted and in a state of deep sorrow and agony. On top of all that, Prince Bachir's claim on her husband's properties made things ever worse. However, Ziara did not weaken, but instead bravely and patiently overcame this list of unfortunate events. Her faith in God gave her the power she needed to move on with life.
Indeed, she first managed to secure the money needed for settling things with Emir Bashir and gave the other heirs their share of her late husband's properties. Afterwards, she decided to entail all the properties left, with the help and blessing of her husband's sister, and their cousin Priest Youssef Raji el Khazen, to the "Our Lady of Annunciation Convent", that was founded by the Sisters from the Order of Saint Francis Salasius and Saint Jeanne de Chantale. The order was also known as Sister of the Visit similar to the Sisters in Aintoura's Convent.
His Beatitude the Patriarch Youssef Houbeich hallowed the convent on the name of Our Lady of the Annunciation on January 1, 1829.
After establishing the convent, she abandoned her extravagant lifestyle, resigned as the governer of the regions of Zouk and Aintoura and devoted herself to serving and worshiping God. She lived for 33 years, life of austerity and asceticism. She died when approaching 80 on June 28, 1858.